Four principles form the The Way of St Paul's. These principles shape our shared identity as a faith community, encourage our personal relationship with God and focus our hearts and minds on our local community as disciples of Christ.
Jesus
Christians speak of Jesus Christ as the Son of God. During Jesus' earthly life, over 2000 years ago, many people found in him:
a new closeness to God
forgiveness of their sin and failure
the beginnings of life in abundance.
This still happens today. Jesus accepted death on the cross for us, has been raised to new life at Easter, and has sent the Holy Spirit to strengthen and encourage us. Christians respond to him with faith.
Jesus was and remains a wisdom teacher: one who taught the ancient traditions of the transformation of the human being. As disciples of Jesus, students of his wisdom, we seek the spiritual nourishment and transformation he offers in his teaching. We strive to emulate his example of loving service to others and all creation.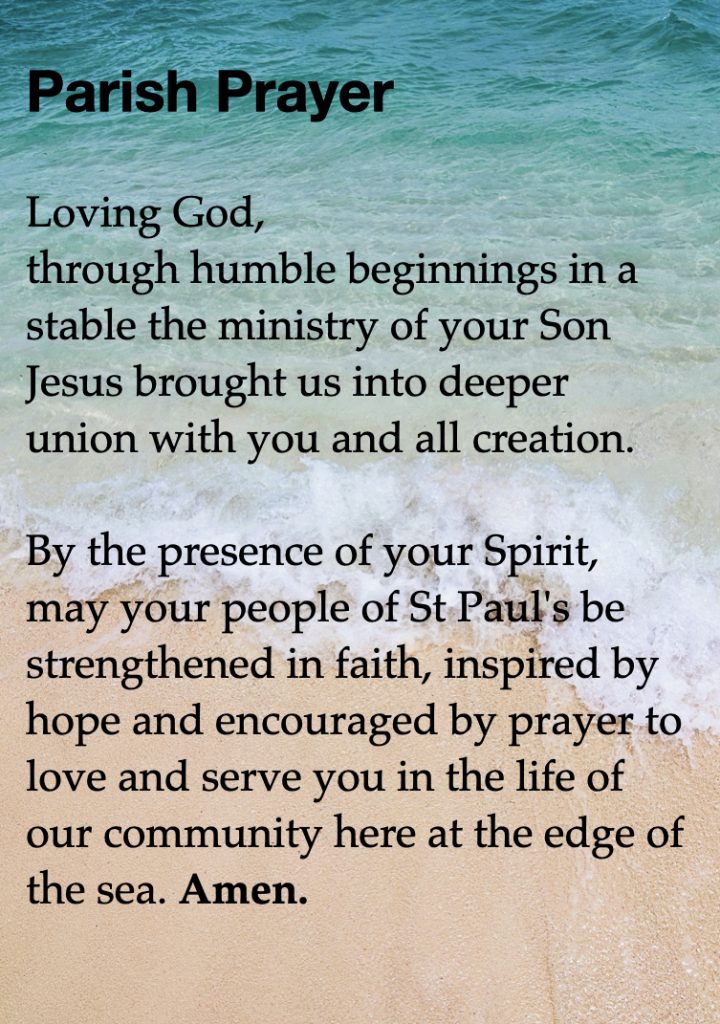 Spirituality
Spirituality is an ancient practice approached from many perspectives. Common to all is the inner experience of a field of universal awareness beyond the material world. Spirituality enables a sense of connection and oneness with the creative and life-sustaining power of the universe we call God. Being aware and living in this connection creates a sense of identity, relationship, meaning and purpose. It brings peace through the recognition that all is one and one is all. Everything belongs.
Spirituality is experiential rather than intellectual. Christian Spirituality is centred on the life, death and resurrection of Jesus. By his selfless love on the cross and his ministry of wisdom during his earthly life, Jesus invites each of us on a lifelong journey of spiritual enlightenment.
Communion
At the heart of St Paul's is an abiding communion; authentic friendship among equals enriching the life of all. An inclusive and loving community, we seek to emulate the deep, loving union present in our world between creator and creation, between God and God's people. Just as Jesus mediates our oneness with God, St Paul's is an intentional community focused
entirely on bringing people together as an act of unconditional love and service. Our common and personal relationship with Jesus, our spiritual lives and our tradition are all grounded in and sustained by the communion we share with God and with each other.
Tradition
In the practice of faith and spirituality, Tradition (with a capital T) refers to Sacred Tradition as the common life, worship and teaching of the Christian faith. Sacred Tradition refers to universal beliefs and practices handed on through the centuries from one generation to the next. In this sense, Tradition is not like the handing down of a family heirloom, but rather a theological and spiritual foundation based on the sacred stories of the Bible and the teaching and practices of previous generations of faithful Christians. St Paul's shares in a long and rich Sacred Tradition, locally as a faith community and globally as members of the Anglican Communion. The wisdom of the past grounds our today and enriches our tomorrow.
We pray you might find a spiritual home at St Paul's.
In the meantime, you might like to check out our ministry of contemplation and action, Pace… a place of peace and prayer.